Dr Carlos Toro
ARTC (Advanced Remanufacturing and Technology Centre) - A*Star (Singapore)
Smart Manufacturing coming of age
Abstract:
The Factory of the future is one of the current trend topics for industry and academic researchers alike. The so called fourth industrial revolution is permeating heavily into the manufacturing landscape. National programs positioning countries in their respective regions, have been approved and put into action. In Europe, the EU Commission launched the Factories of the Future program (2008 to 2020), committing an investment of €2.35B in a public-private partnership (PPP). The research domains include advanced manufacturing processes, digital, virtual and resource efficient factories. In the case of the Asia Pacific region, one of the most relevant efforts is Singapore's own Future of Manufacturing (FoM), led by the Agency for Science, Technology and Research (A*STAR).
In order to implement FoM, A*STAR has created the Model Factory @ ARTC. The idea is that manufacturers, technology providers and the broader industry are welcomed to the facility to:
Learn how the technologies are implemented on manufacturing use-cases
Test process improvements enabled by the technologies at the facility, without disrupting their own operations
Co-develop technology solutions
Support the adoption of solutions at their everyday industrial operation.
In this talk, we will try to elaborate on how Industry 4.0 is being implemented in the real-world scenario of the Model Factory @ARTC. It will be discussed, how the realization of the Smart Manufacturing concept is tackled in three relevant aspects:
Secure Connectivity and Intelligent Systems: Involving a highly interconnected systems and architectures, hard real time data and petabyte like storage at the edge and cloud levels.
Real time analytics and Manufacturing Knowledge: Providing the possibility of decentralized decision making, condition monitoring for predictive model and optimization and better monitoring of energy consumption for sustainable manufacturing.
Virtual Manufacturing: involving digital twins of the physical factory and its processes, simulation for factory assets optimization and uses of augmented reality to help in operators training and machine maintenance.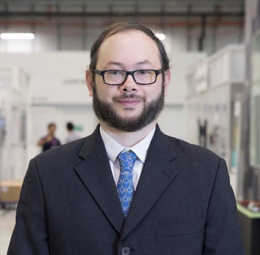 Biography:
Dr. Carlos Toro received both his Ph.D. And M.Sc in Computer Science from the University of the Basque Country (Spain) and his Bachelor degree in Mechanical Engineering (with honors) from EAFIT University (Colombia). In 2003 he moved to Spain and started working in applied research focusing on Industrial and Advanced Manufacturing. At the same time he lectured at the university of the Basque Country. In 2007 he was invited researcher at the University of Newcastle (Australia) returning in 2011 with a Marie Curie research visitor grant funded by the EU Commission. Since 2017 he joined A*Star Singapore at their Advanced Remanufacturing and Technology Centre (ARTC) as lead architect and research scientist for the Factory of the Future initiative which is the effort of Singapore government for implementing a model factory that includes the concepts of the 4th industrial revolution.
---
Back
to Keynote Speakers