Welcome Drinks Reception and Early Registration
Tuesday 3rd September 2019
Join us for a welcome cocktail and light snack at the Danubius Hotel on the stunning Margaret Island, a chance to register early for the conference, collect your programme and meet the conference team as we all gather in the lovely conference venue.
This event is open to all conference delegates and included in your conference fee
Timings: Early Reg: 17:30 -19:00 Drinks Reception: 17:30 - 19:30
Evening Social Excursion and Networking event
Wednesday 4th September 2019
Evening Sunset Cruise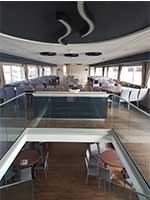 Enjoy a sunset cruise in Budapest to see the best of the riverfront beauties, the two banks of the river Danube are spotted with brightly lit churches, the Buda Castle on the Castle Hill, the neo-Gothic turrets of the Hungarian Parliament, the palm leaved Statue of Liberty on the Gellert Hill, the cupolas of the Art Nouveau Gellert Baths, the elegant curves of the Gresham Palace and the soaring domes of the majestic St. Stephens Basilica behind them.
You will be cruising in one of the UNESCO World Heritage sites with us, and one of the twinkling treasure boxes of the river Danube so why not join us for a river sunset cruise on a lovely boat.
Price: €45 per person / Timings: Meet in hotel lobby at 18:45
Gala Dinner and Awards
Thursday 5th September 2019
Budafok Wine City developed in the cellars of the Zaborszky Mansion aspires to no less than presenting the wonder of wine in its entirety, together with all historic and cultural traditions forming intrinsic parts thereof. On the historic barrel row, barrels of various types that have been created according to centuries-old traditions as well as masterpieces of woodcarving artists are showcased.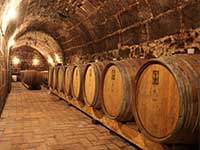 In the crafts museum, relics of ancient professions related to wine transportation and barrel making relate the story of the creative process.
Enjoy dinner with us sat on the wine street, where you can delight in artifacts of the Hungarian wine regions, and in the plague chapel and where architectural artifacts of religious life of previous eras are presented.
The evening also encourages social interaction and networking with your colleagues from around the globe!
Timing: Meet at the hotel lobby 18:15 to depart 18:30